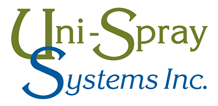 Uni-SprayTM Brand Spray Equipment
Since 1987, Uni-Spray's success within the metal-finishing industry has led to growth and to a significant market presence, not only in North America, but around the globe. With established sales channels worldwide, we are sure we can service any of our customers' needs.
Uni-Spray continues to design and develop new and innovative products for use in the metal-finishing industry. Our extensive line of nozzle assemblies offers different versions and material types, including our highly successful line of quick-change tips. Great selection and design allows us to meet all spray requirements in the harshest of environments.