UNI-SPRAY's wide range of LIQUID and COMPRESSED AIR NOZZLES are designed to meet your industry needs.
Applications:
PAPER MANUFACTURING
STEEL AND ALUMINUM PRODUCTION
CHEMICAL COATING
FIRE FIGHTING
FOOD PROCESSING
POWDER COATING
TEXTILE INDUSTRY
CIRCUIT BOARD PRINTING
GENERAL MANUFACTURING
NOZZLE BASICS
Three substances can be sprayed by nozzle: liquid, steam, and air. However, most applications require hydraulic (or liquid) nozzles. Different nozzle models produce different droplet sizes and spray patterns. Flow rate, pressure and spray angle are also factors in determining droplet size. Generally, an increase in flow rate, at the same pressure, increases droplet diameter. Increased pressure or spray angle reduces droplet diameter.
The principal factors when selecting the best nozzle for your application are:
Spray pattern (hollow cone, full cone, flat, atomizing)
Material (brass, 303 or 316 stainless steel, plastic, specialty metals)
Connection (threaded male or female)
Flow rate at a given pressure
HOLLOW CONE (A SERIES) nozzles evenly distribute fine droplets in a circular pattern with no droplets at its centre. No internal vane means reduced clogging. 
FULL CONE (B SERIES) nozzles evenly distribute droplets throughout the circle's area. Droplet size is larger than sprays produced by hollow cone or flat jet nozzles.  
FLAT (C SERIES) nozzles produce a fine spray pattern than ranges from linear to elliptical in shape, depending on the specific nozzle model.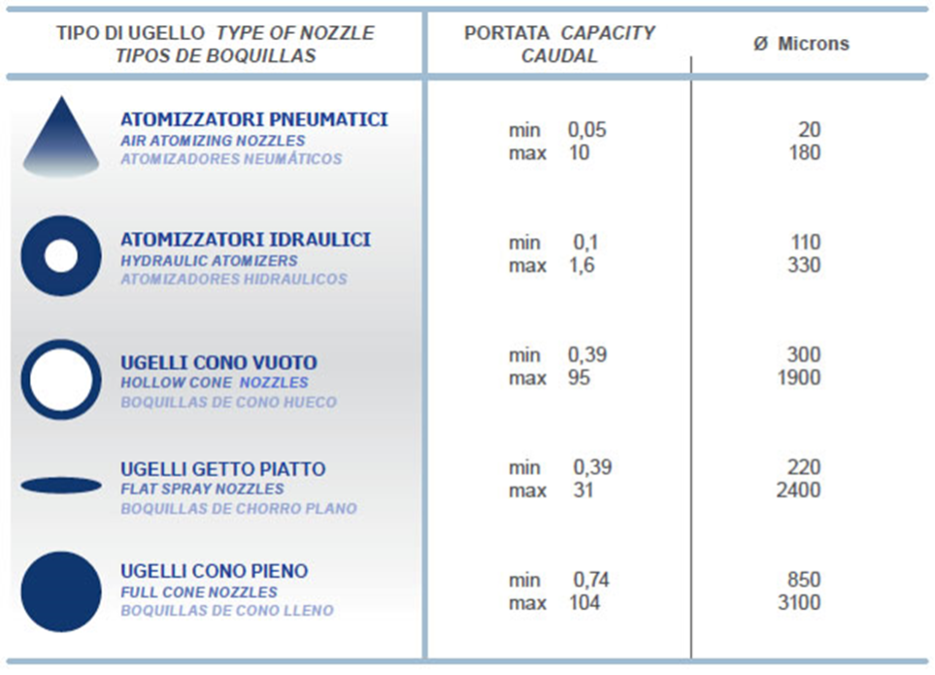 *median droplet sizes relative to minimum and maximum capacity values at 3 bar pressure
Compressed air nozzles are widely used for cleaning, drying, sorting, parts transportation, dust removal, air barrier creation and cooling.
These specialized nozzles deliver accurate and consistent results with improved operator safety. They are also highly efficient, maximizing blowing force while keeping air and energy consumption as well as noise levels low.
OTHER CONSIDERATIONS WHEN SELECTING
Besides nozzle style (e.g., hollow cone, full cone, flat) and model, consider the following when making your selection:
SPRAYING ANGLE:
Spraying angle is usually measured near the nozzle opening because gravity and environment can reduce spraying width as the distance from the opening increases. Greater viscosity of the liquid sprayed also reduces the spraying angle. See the table below for theoretical coverage at various distances from the nozzle opening in relation to spraying angle.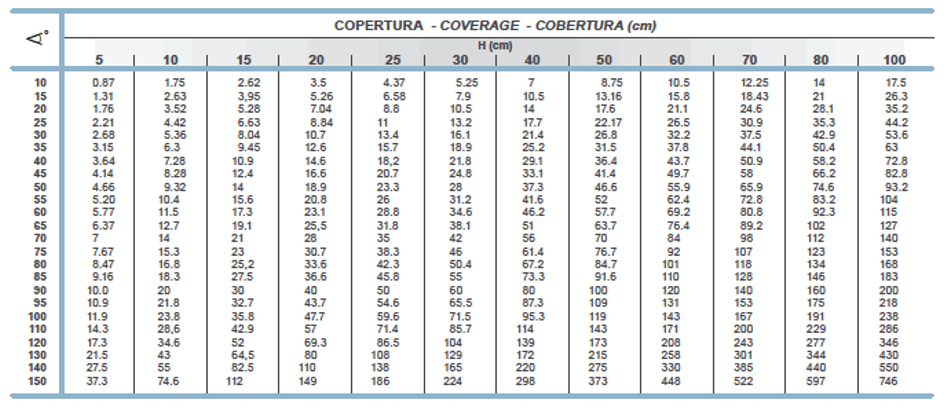 IMPACT:
Spray impact varies according to flow rate, pressure and spray pattern. Solid-stream and flat nozzles produce the highest impact, while wide-angle full and hollow cone nozzles produce the lowest.
NOZZLE WEAR:
As nozzle openings wear over time, flow rates increase. Under the same conditions, stainless steel nozzles last five times longer than brass.