Speedy Jet Electrically Actuated Hydraulic Atomizing Nozzle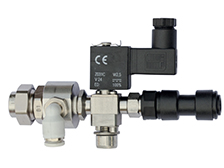 Perfect for fast-paced production lines, the Speedy Jet electrically actuated hydraulic atomizing nozzle reaches speeds of up to 3,000 cycles per minute to produce precise, consistent and uniform spray patterns using a variety of hydraulic or standard tips. The
Speed Jet's control panel can be integrated into existing systems or installed as supplied. The supplied panel allows individual on-off scheduling for up to 16 Speedy Jet nozzles.
Specifications: 
• Body: 316 stainless steel
• Sealing FPM (FKM)
• Seat: 316 stainless steel
• Internal components: 316 stainless steel
• Guide assembly: 316 stainless steel
• Maximum allowable pressure: 230 psi
• Opening time: minimum 5 ms
• Closing time: minimum 5 ms
• Fluid temperature: 0°C to +130°C
• Continuous duty: ED100%
• Encapsulation material: PET
• Coil insulation class: F (+155°C)
• Ambient temperature: -10°C to +60°C
• Protection degree: IP65 (EN60529) with plug micro connectors
• Electrical connections: DIN 46340 with 3-pin micro connectors
• Voltage: 24VDC (+10% -5%) 2.5W