---
UNI-SPRAY SYSTEMS INC.
---
Uni-Spray Systems Inc. is a full-service, high-precision manufacturer that offers the metal-finishing and packaging industries a single source for moulded plastic parts and assemblies. In addition to these proprietary product lines, we supply extensive custom injection moulding, engineering and design services.
Founded in 1987 as a producer of quality plastic nozzles, Uni-Spray has set itself apart from its competitors by also building and supplying custom-designed plastic piping systems that incorporate Uni-Spray nozzles and cam-operated couplings. Our in-house engineers have designed seals for popular filling machines such as Krones, Meyer, H&K, Cemco, Crown and Simonazzi.
Uni-Spray has since evolved to deliver parts and assemblies solutions to a wide range of industries. Backed by a state-of-the-art production facility and a team of professionals dedicated to excellence in customer satisfaction, Uni-Spray Systems is committed to the manufacture of high-quality industrial products. As both moulder and designer, we are uniquely positioned to quickly and effectively develop and launch new products.
NEW Plant Expansion
Uni-Spray's new state-of-the-art Cambridge, Ontario facility opened in early 2020 adding room for increased production capacity to serve our growing global client-base.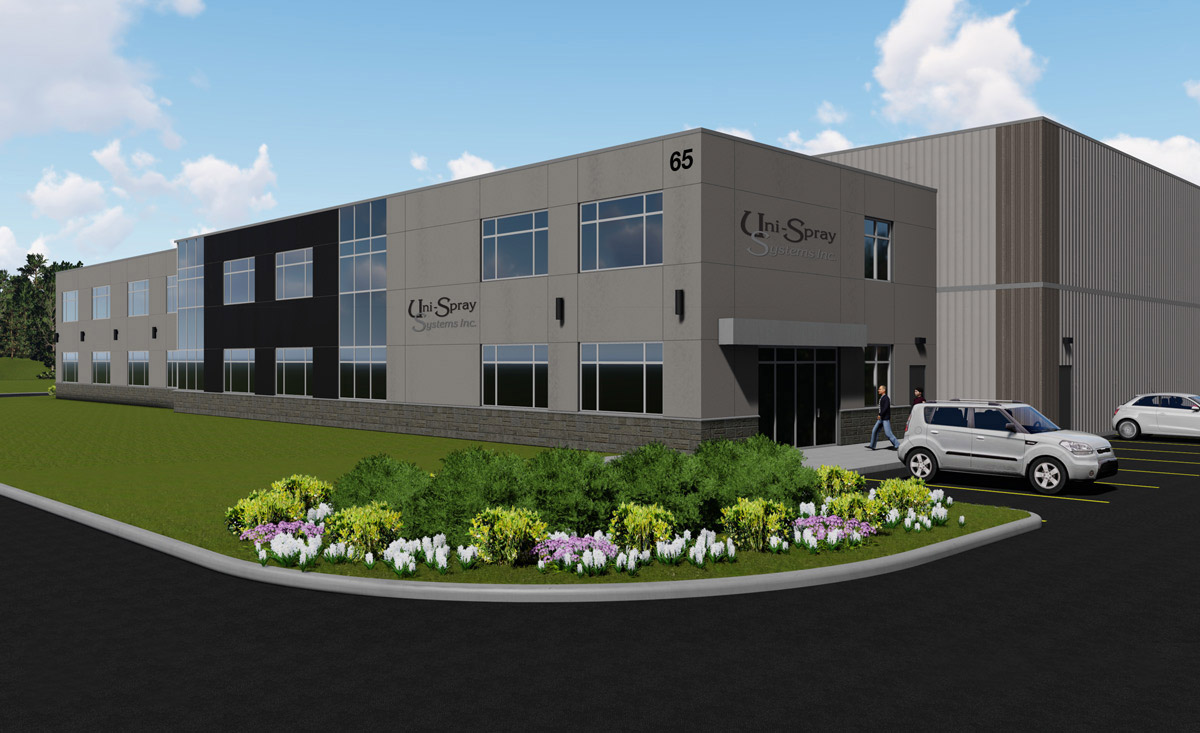 International Excellence in Metal Finishing, Bottling & Custom Moulding
---
Complete design, manufacturing and assembly capabilities.
Consistent quality, reliable supply agreements and competitive prices.
Latest in injection-moulding manufacturing technology.
High-accuracy 3D printing for prototypes and short production runs.
Complete line of nozzles, quick disconnects and piping systems.
Products to significantly increase high-speed bottling-line efficiency.
Contract moulding services for a wide range of industries and applications.
Continuous R&D to maintain leading market position.
Extensive inventory for rapid turnaround and on-time deliveries.
High-profile clients in over 40 countries.